It's Turkey Time! 7 Tips for Planning Your Best Holiday Dinner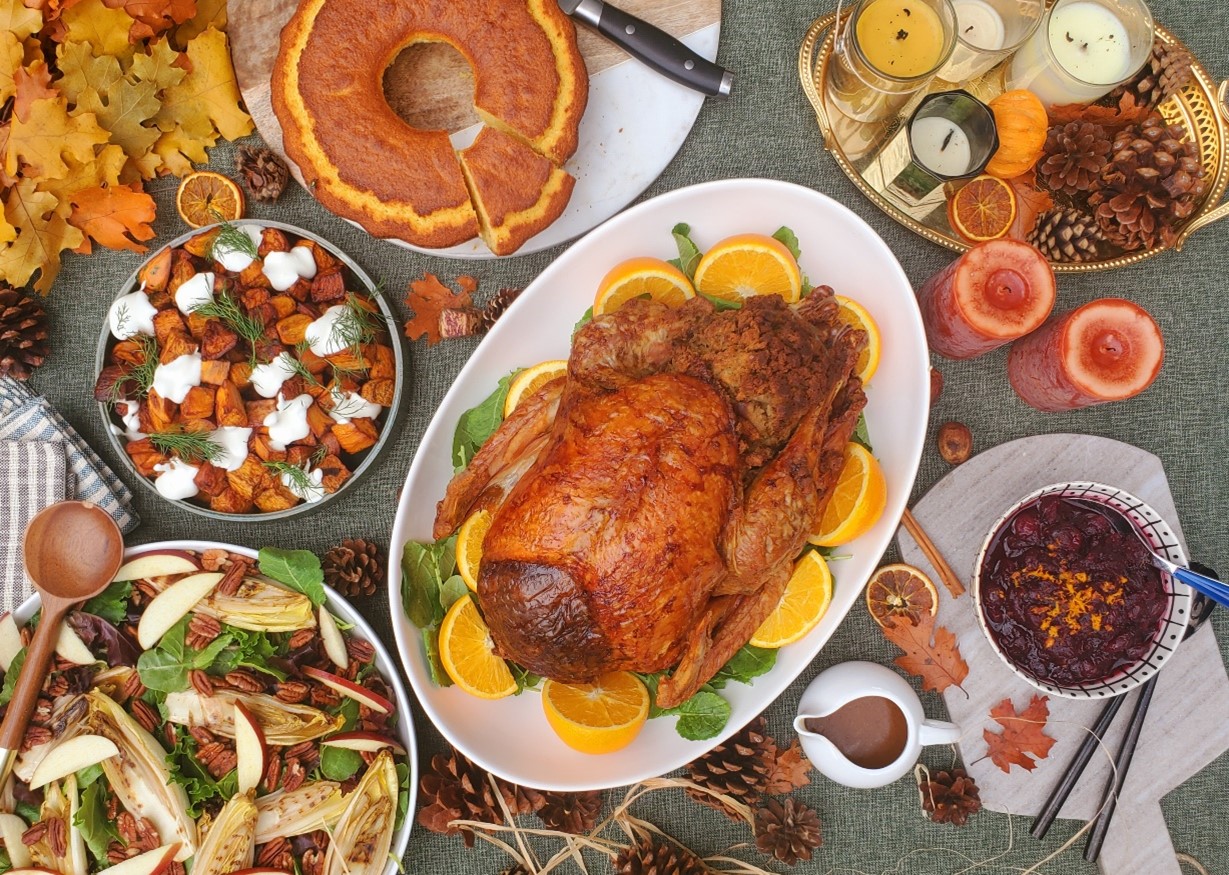 By: Chef Shahir Massoud
While some people will opt for a smaller gathering again this year, many will be taking the leap to host a larger crowd! But whether you're cooking for two or twenty, the tips below from Chef Shahir Massoud will help you host a stress-free Thanksgiving that you and your family will remember forever.
Know Your Guests
You have to know how much turkey to buy in order to feed a crowd! I always recommend 1 1/2 pounds per guest (this will leave enough for leftovers, which you'll want after checking out our recipes on butterball.ca), but you can also check out the Turkey Calculator from Butterball to help you buy enough for your celebration. I also recommend that when choosing a "cook-from-frozen" or other frozen option, be mindful about thawing time! I personally always go for the Butterball Stuffed Turkey because it's cook from frozen and has the best stuffing already taken care of. Plus, you'll likely have leftovers—and the further we can stretch meals in this time of rising inflation, the better!
Be Strategic With Your Side Dishes
Remember that your oven will be busy with the turkey, so try to plan a menu where the side dishes won't need that valuable real estate.  Check out some great recipes this year, like our Crispy Sweet Potatoes with Whipped Goat Cheese, Sour Cream and Onion Mash, Brown Butter Green Beans, Autumn Salad, and Cranberry Orange and Chili Sauce—all of which can be done on your stovetop while the turkey roasts and cooks.
Outsource Some of the Work
Hey, there's no shame in asking for a little help! Ask mom to bring a dessert, or your freeloading brother-in-law to at least pitch in with some appetizers!  If you try to do it all, there won't be any room for the host to join in the fun, and plus it helps save on your hosting budget a bit. So, divide and conquer. Whoever oversees the main star of the dinner—the turkey—shouldn't also have to worry about how to start and end the feast.
Set the Mood
There's nothing like a little music to get everyone feeling festive! Plus, it may even incite some dancing or singing (which may end up resulting in laughter, too!). I recently made up a YouTube playlist of some of my favourite tracks for when I am prepping and hosting Thanksgiving—give it a listen!
No Phone Rule!
Now listen, I totally agree that the final spread on the table should be documented for Instagram. BUT make a rule at the table: after photos are snapped and shared, put the phones away. Yes, even the disgruntled teenager.  After the initial shock and reactionary motions that your hand starts to make for your pocket (fight the temptation!!) you'll find that everyone at the table will start talking.  Dare I say it, you may even start to share what you're thankful for! So put away the phones, dine, talk, and laugh.
Dress the Table (and Yourselves!)
Half of the fun with the holiday is the special sense of occasion. Get out the tablecloths, candles, and silverware, and decorate the table with seasonal items. Have fun with how the table looks, even before the beautiful spread of food hits it. And listen, I'm the last guy to say it's time to dress up, but people… it's time to dress up.  Trade the sweats for some real clothes and bask in the sense of occasion.  Then switch right back to the sweats after that second helping—no judgement at that point.
Build New Traditions
If you're like me, then you're still getting used to being in charge of your own family Thanksgiving.  After a lifetime of being at the 'kid table,' it's almost surreal to remember that you're in charge now!  Sure, that comes with a lot of responsibility (people are expecting a great meal!), but it also comes with a lot of opportunity to put your own stamp and yearly traditions on things.  So, think outside the box, but keep it simple and consistent. If there's a dish, activity, ritual, etc. that your family can count on every year, then you my friend, have built your own signature tradition.