Healthy, wholesome, great-tasting turkey
you'll be proud to serve your family.
What is Naturally Inspired?
Naturally Inspired™ by Butterball* turkeys are raised without any antibiotics ever. Their diet is based on whole grains and spring water ensuring they get all the important nutrients they need. Naturally Inspired Turkeys are grown on Canadian family farms dedicated to raising turkeys right. With the help of our farmers, suppliers, veterinarians, and employees, we're dedicated to delivering healthy, wholesome, great-tasting turkey you'll be proud to serve your family.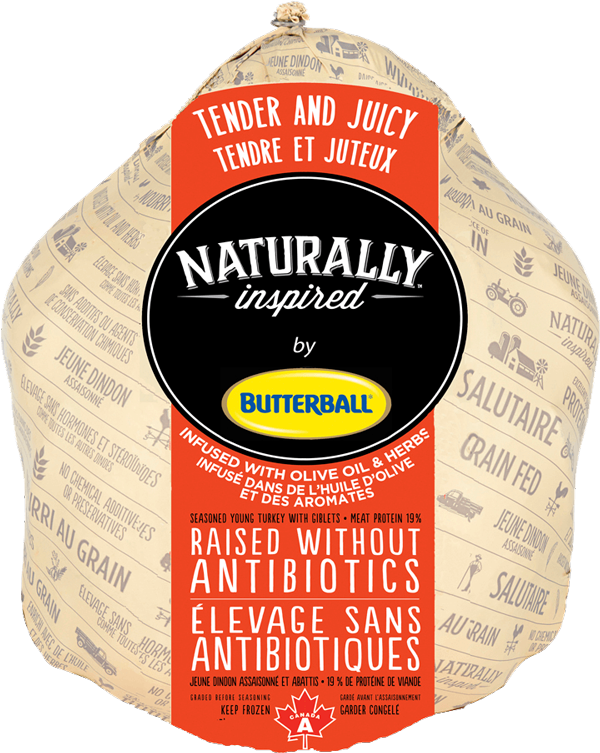 Seasoned Young Turkey with Giblets
Raised Without Antibiotics
Canadian farmers take great pride in the Naturally Inspired turkeys raised on their local, family farms. These turkeys are grain fed and never given antibiotics. Infused with extra virgin olive oil and subtle notes of sage, thyme and rosemary, Naturally Inspired turkeys are perfect for every family get together!
INGREDIENTS: Turkey infused with water, Canola oil, Extra virgin olive oil, Sea salt, White pepper, Sage, Thyme, Rosemary, Savoury.
Nutrition Facts
Per 100g
Amount
% Daily value
Calories 150
Fat 8g
12%
Saturated Fat 1.5g
+ Trans Fat 0.5g
10%
Cholesterol 65mg
Sodium 270mg
11%
Carbohydrate 0g
0%
Fibre 0g
0%
Sugars 0g
Protein 19g
Vitamin A
2%
Vitamin C
0%
Calcium
0%
Iron
6%
Cook-Thaw Chart
Size
*Thaw
**Cook Time
KG
LB
Days
Stuffed
Unstuffed
4 – 5
5 – 8
8 – 10
8 – 11
11 – 18
18 – 22
3
3 – 4
4 – 5
3½ – 4 H
4 – 4½ H
4½ – 5 H
2¾ – 3¼ H
3¼ – 3¾ H
3¾ – 4¼ H
*Thaw in refrigerator
**Cook times are approximate as oven temperatures vary
DIRECTIONS:
Thaw in refrigerator (see chart)
Remove packaging. Remove giblets from neck cavity and remove neck from body cavity. Refrigerate until ready to use. Drain juices and blot with paper towels.
Stuff neck and body cavities lightly. Allow ¾ cup stuffing per pound (optional).
Place turkey, breast up, on flat rack in pan about 8cm (3″) deep. Brush skin with vegetable oil to prevent drying. Do not cover or add water.
Place turkey in middle of preheated 325˚F (165˚C) oven. Roast according to chart. To prevent skin from becoming too dark, cover with aluminum foil near end of cooking time. Check for doneness with a meat thermometer, thigh should be minimum 180˚F (82˚C) / stuffing should be minimum 165˚F (74˚C).
Allow turkey and stuffing to stand for 15 minutes before carving.
Frequently Asked Questions
Our Naturally Inspired turkeys are raised without any antibiotics ever and our growers comply with a protocol reviewed and approved by the Canadian Food Inspection Agency. To learn more click here.
Turkey care and well-being begins at the farm with dedicated growers following stringent growing methods to ensure the humane raising of our turkeys. We are committed to the use of antibiotics only when required and prescribed by a veterinarian to maintain the health of the flock.
If medication is required, the turkeys are removed from the flock and no longer qualify for the Naturally Inspired brand. Note: Mandatory antibiotic withdrawal periods prior to marketing are veterinary enforced and verified ensuring all turkey meat in Canada is antibiotic free.
Canadian turkeys are not given growth hormones or steroids. These drugs have been prohibited for over 30 years. Also, turkeys are not genetically modified in any manner. Advancements in breeding and selection, combined with better feed and on-farm programs are responsible for the larger, healthier and meatier turkeys raised today.
We created Naturally Inspired™ by Butterball* for those specifically seeking turkey raised without any antibiotics. Butterball has always been committed to the responsible use of antibiotics. The medications used for our turkeys are administered in strict compliance with regulations and only provided when needed to keep them healthy. All medications used are federally approved and exclude all Category 1 antibiotics, a Health Canada classification that identifies the most important antibiotics used in human medicine.